- Gold's average gains in inauguration years of 15% since 1974
- First year of new President frequently a time of increased uncertainties and risks
- Gold rose 30% in the 12 months after Obama inauguration
– Massive political uncertainty – President's conflict with the CIA
- 'Strong dollar policy' to end as U.S. has $120 trillion plus debt
- Trump inherits Bush and Obama's humongous debt
Gold performs well in inauguration years (see table) and has seen average gains of 15% in inaugural years since the 1970s.
Given the degree of uncertainty, divisiveness and conflict that Trump's election has already created – both in America and internationally, it seems almost certain that the many risks as President Trump takes power will lead to higher gold prices.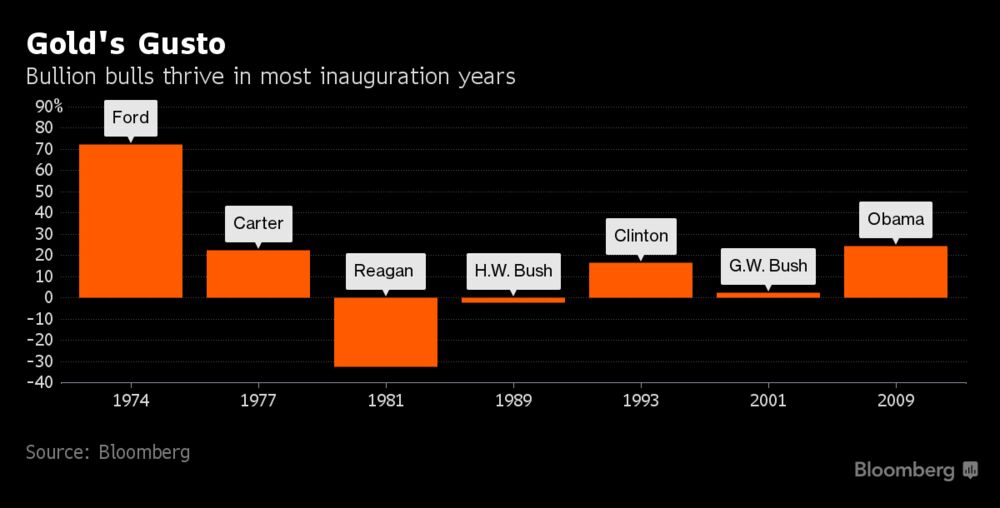 Besides the myriad of risks today and arguable the most uncertain geo-political situation since World War II or the height of the Cold War, gold investors and buyers can look to Presidential history, as gold has recorded has average gains of 15% in inaugural years since 1974.
This may be due to the fact that the first year of many administrations is frequently a time of significant change and increased uncertainties and risks. Markets are concerned that the US presidential handover and advent of President Trump will lead to volatility and turmoil in 2017 which will likely impact risk assets such as stocks.